MIP Content - New User Care
Actions
Regional Service Centers (RSC) Information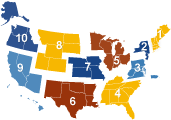 FEMA's Mapping Partners must contact their RSC for access to the Mapping Information Platform (MIP) Workflow.

RSC locations correspond to FEMA Regions and can be reached via e-mail, mail, and telephone.
Please contact the RSC in the Region where your company performs mapping work (if it is a different location from where your office resides).
RSC Contact Information
RSC 1
Connecticut, Maine, Massachusetts, New Hampshire, Rhode Island, and Vermont
ARC Regional Service Center 1
c/o Michael Baker Intl.
125 Cambridgepark Drive
Suite 502
Cambridge, MA 02140
RSC1 Lead: Alex Sirotek
alexander.sirotek@woodplc.com
(617) 515-4713
RSC 2
New Jersey, New York, Puerto Rico, and the Virgin Islands
ARC Regional Service Center 2
c/o Michael Baker Intl.
14 Penn Plaza
225 W. 34th. Street, Suite 1304
New York, NY 10122
RSC2 Lead: Tolga Yilmaz
tolga.yilmaz@mbakerintl.com
(217) 898-3431

RSC 3
Delaware, District of Columbia, Maryland, Pennsylvania, Virginia, and West Virginia
ARC Regional Service Center 3
c/o Michael Baker Intl.
1818 Market St, Ste 3110
Philadelphia, PA 19103
(215) 568-0539
RSC3 Lead: Jeff Smith
jeffrey.smith@woodplc.com
(484) 724-8375
RSC 4
Alabama, Florida, Georgia, Kentucky, Mississippi, N. Carolina, S. Carolina, and Tennessee
Compass Regional Service Center 4
1360 Peachtree Street NE, Suite 500
Atlanta, GA 30309
RSC4 Lead: John Newcomb-Thompson
John.Newcomb-Thompson@aecom.com
(404) 946-9522
RSC 5
Illinois, Indiana, Michigan, Minnesota, Ohio, and Wisconsin
ARC Regional Service Center 5
c/o Michael Baker Intl.
200 West Adams Street
Suite 1800
Chicago, IL 60606
RSC5 Lead: Sally McConkey
sally.mcconkey@woodplc.com
(217) 840-8441
RSC 6
Arkansas, Louisiana, New Mexico, Oklahoma, and Texas
Compass Regional Service Center 6
AECOM
101 South Locust Street
Suite 620
Denton, TX 76201
RSC 6 Lead: Rachel Mollenhoff
jrachel.mollenhoff@aecom.com
(817) 614-4511
RSC 7
Iowa, Kansas, Missouri, and Nebraska
Compass Regional Service Center 7
AECOM
2380 McGee Street
Suite 200
Kansas City MO 64108
RSC 7 Lead: Mary Gilliland
816-410-6393
mary.gilliland@aecom.com

RSC 8
Colorado, Montana, N. Dakota, S. Dakota, Utah, and Wyoming
Compass Regional Support Center 8
990 S. Broadway, Suite 400
Denver, CO 80209
Regional Technical Coordinator (RTC) Lead: Matt McGlone
mcgloneml@cdmsmith.com
(303) 383-2361

RSC 9
Arizona, California, Hawaii, Nevada, American Samoa, Guam, Commonwealth of the Northern Mariana Islands Republic of the Marshall Islands, and Federated States of Micronesia
STARRII Regional Service Center 9
580 California Street, Suite 1248
San Francisco, CA 94104
RSC9 Lead: Mike Skowronek
mike.skowronek@atkinsglobal.com
(415) 671-7178

RSC 10
Alaska, Idaho, Oregon, and Washington
STARRII Regional Service Center 10
20700 44th Avenue West, Suite 110
Lynnwood, WA 98036
RSC10 Lead: Josha Crowley
Josha.Crowley@atkinsglobal.com
(425) 329-3679